Piano Tuning in Coventry and Edinburgh: £75
(formerly with Steinway & Sons)
Includes raising pitch 1/2-tone when your piano has been neglected for years.
Hard times: if you prefer not to pay for tuning or repairs up front you can go on the tune-now-pay-later scheme, making interest-free payments over a year or two.  All I ask is that you do the math.
---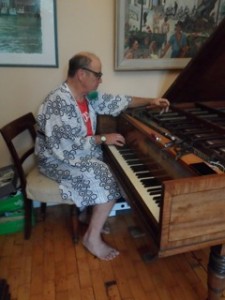 Benjamin Treuhaft is a piano tuner in Coventry. His training began more than 40 years ago when he learned to tune and regulate in piano factories in the American midwest and east coast and honed his skills in New York in the early 1970s at the prestigious Steinway & Sons Concert Basement where he tuned daily for international stars such as Vladimir Horowitz and Glenn Gould (both have since died but Ben is not responsible). Read more about Ben here.
---
Services:
Ben now lives in Coventry but also tunes in Edinburgh and throughout Scotland, and does all piano repairs and regulating.  He travels far afield, tuning for the Western Isles schools in Lewis, Harris and Barra.

If you want to get in touch with Ben, you can contact him here, or email BLT@tunerben.com.
---
Keyboard Concerto #5 In F Minor, BWV 1056 – Largo, tuned by Ben for Glenn Gould for the sound track of the film Slaughterhouse 5.