Saturday, September 7th 2013
 Hackney, London.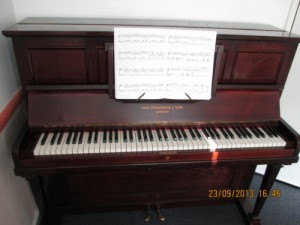 Another excellent English piano – those that make it to the USA are wrecks brought over in containers in the 60s and 70s and sold by piano vultures to naive mothers on the strength of the candelabra, the fine wood and the fancy English nameboards while inside they are neglected, with dried up glue joints, bad tuning pin blocks and trashed actions. I have never shied away from English pianos, but my first 20 tunings on UK pianos here have been amazing to me in that they've all been good pianos.  This Broadwood is an excellent example of a 100-year-old upright just sitting in the damp British climate, with no special care, not being played all that much, still in perfect playing condition.  It came right up to concert pitch after not having had a solid tuning in years.  Pat was too shy to try it out but I think it came out lovely.
     Why midnight?  The last midnight tuning I recall was for Van Cliburn in 1971 at RCA studios in NY.  He started at 10 p.m. and worked til dawn playing take after take, having neglected to properly prepare the Debussy.  And before that, tuning a harpsichord for Frank Zappa's all-night Apostolic Productions.  No, midnight is past my bedtime now.  But I was stoked after 
The

 

Mitford Society
's bash, a celebration of my mother and her sisters held in a National Trust house in Hackney.  Pat was there with a friend, up from Cambridge, on the panel of a seminar that was part of the evening.  They took pity on me, down from Edinburgh, and brought me home to sleep under the piano.  The other attendees were Bright Young Things many in 1920s garb roaming from room to transformed room (done up in Mitford themes e.g. the Unity and Jessica Drawing Room complete with Nazi v communist propaganda, and the U and Non U-tube Video room), drinks in hand, saying funny English things to each other.  A cheer went up after the movie/flapper event when I was introduced, son of the hands-down favourite Mitford sister.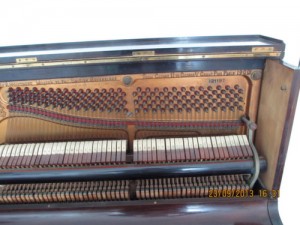 While I was in London, first time in almost 20 years, I stopped by Steinway & Sons to take a tuning test on the chance they might recommend me in Edinburgh for occasions when their man Norman Motion can't make it.  I was introduced to Ulrich, the UK's premier concert tuner, at Wigmore Hall afterwards.