October 10th, 2013 Penicuik Edinburgh
The upright at 101 years old (Bechstein Model 10 upright #104090 (1912) is perfect – perfect ivories, beautiful cabinet, excellent original strings and action.
In August it came right up to modern pitch from A=433 (approx. quarter tone flat) in spite of loose pins making it very difficult to tune: not enough resistance at the pin.
But Frank is a handy fellow and in the next days he lay the piano down and dripped the secret goo (watery superglue) onto the pin plank.  It didn't work at first.  When I returned for the fine tuning the pins were still loose.  So you might think it was a wasted hour or two on the bus from Morningside, but there's a nice Italian cafe next to the Penicuik Tesco which made the journey worthwhile.  Little Italy.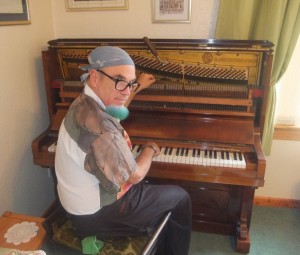 Frank tried again, still no success but this is a perfect piano and I wanted to save it from having to be restrung.  So I tapped all 235 pins in a smidgen and THAT, along with the superglue trick, worked finally.  Bechstein Rides Again.      -blt